4 May 2018: Divisibility
We can tell if a number is divisible by 3 by summing its digits and seeing if the result is divisible by 3!
The works because 10 = (3 * 3) + 1. So, each multiple of 10 that is added, is adding 1 modulo 3.
28 April 2018: Puzzling Pennies
(From the Math Olympiad Contest Problems, Volume 1) From a pile of 100 pennies, 100 nickels, and 100 dimes, select 21 coins that have a total value of exactly $1.00. In your selection you must also use at least one coin of each type. How many couns of each of the three types should be selected?
21 April 2018: Coin Puzzle
(From the Math Olympiad Contest Problems, Volume 1) I have 30 coins consisting of nickels and quarters. The total value of the coins is $4.10. How many of each kind do I have?
The tower below is made up of five horizontal layers of cubes with no gaps. How many individual cubes are in the tower?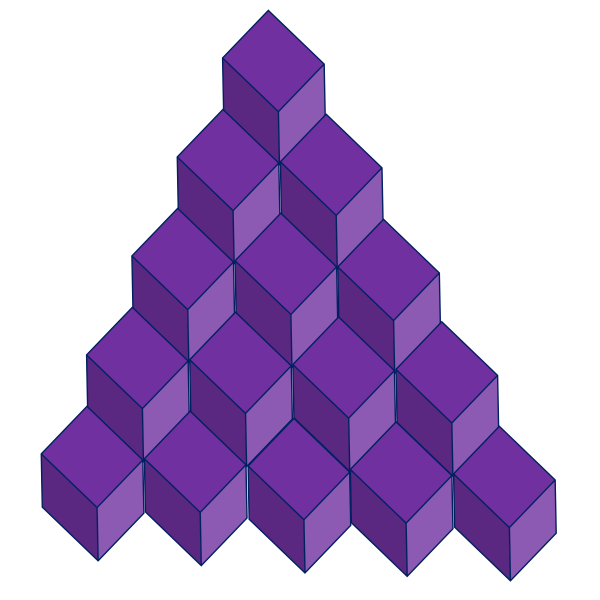 7 April 2018: Sorting Algorithms
We did bubblesort (which took a lot of persistence by finished successfully!) and quicksort.
23 March 2018: Fusing Dots
Fusing Dots machine (from the Berkeley Math Circle): [PDF]
16 March 2018: Smullyan's Criminals
Smullyan's Criminals problems from the Berkeley Math Circle: [PDF]
9 March 2018: Boolean Island
We did some puzzles based on the Knights and Knaves from Raymond Smullyan's What is the Name of this Book?: [PDF]
The last puzzle was to make up your own puzzle about the Boolies.
2 March 2018: Water Rainbows
We can make colored water with different densities by mixing in different amounts of sugar. Then, we can make a separated rainbow of different colored water in a straw!
23 February 2018: Tree Adding
| | |
| --- | --- |
| | |