22 June 2018: Geometry
Finished the geometry problems (Geometry Axiom Problems (PDF)).
14 June 2018: Straightedge and Compass
We practiced using the ruler and compass on creative drawing. We used the ruler and compass to draw a perpendicular on a given line and to draw a square.
7 June 2018: Problems about Points and Lines
Geometry Axiom Problems (PDF)
25 May 2018: Geometry from Axioms
Introduction to Euclidean Geometry Definitions and Axioms (PDF)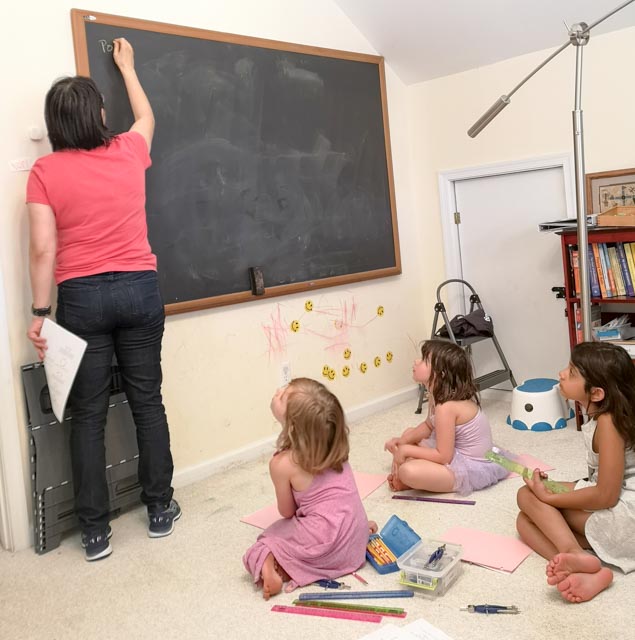 18 May 2018: Sharing Marbles
(From the Math Olympiad Contest Problems, Volume 1)
A set of marbles can be divided in equal shares among 2, 3, 4, 5, or 6 children with no marbles left over. What is the least number of marbles the set could have?
We also tried the same problem with numbers 3, 5, 7.
Since our crowd does not know multiplication yet, but knows skip count and divisibility criteria, we found two ways to solve the problem. The number we're looking for is the first common one in the number chains of the 4, 5, 6. The other way is to write down the number chain for 7 and use the divisibility criteria for 3 and 5 that we already know to find the number.
4 May 2018: Divisibility
We can tell if a number is divisible by 3 by summing its digits and seeing if the result is divisible by 3!
The works because 10 = (3 * 3) + 1. So, each multiple of 10 that is added, is adding 1 modulo 3.
28 April 2018: Puzzling Pennies
(From the Math Olympiad Contest Problems, Volume 1) From a pile of 100 pennies, 100 nickels, and 100 dimes, select 21 coins that have a total value of exactly $1.00. In your selection you must also use at least one coin of each type. How many couns of each of the three types should be selected?
21 April 2018: Coin Puzzle
(From the Math Olympiad Contest Problems, Volume 1) I have 30 coins consisting of nickels and quarters. The total value of the coins is $4.10. How many of each kind do I have?
The tower below is made up of five horizontal layers of cubes with no gaps. How many individual cubes are in the tower?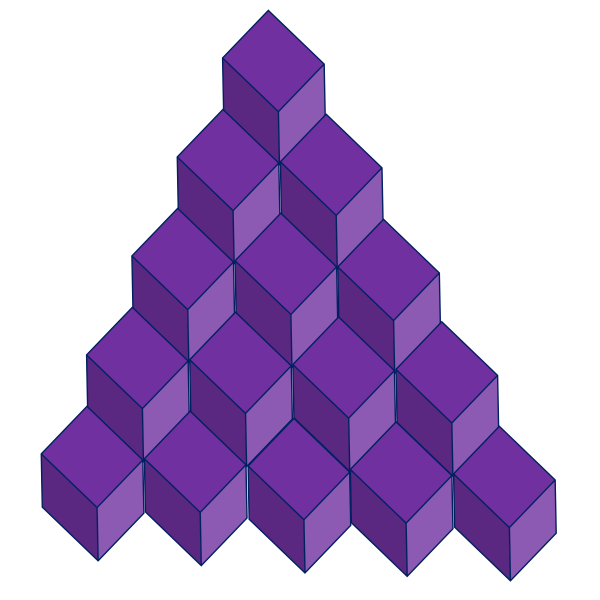 15 April 2018: Radix Sorting
We split numbers 1 – 100 in buckets by the first digit and the used various sorting algorithms, such as quicksort, insert and merge sort to sort each bucket.
7 April 2018: Sorting Algorithms
We did bubblesort (which took a lot of persistence by finished successfully!) and quicksort.
23 March 2018: Fusing Dots
Fusing Dots machine (from the Berkeley Math Circle): [PDF]
16 March 2018: Smullyan's Criminals
Smullyan's Criminals problems from the Berkeley Math Circle: [PDF]
9 March 2018: Boolean Island
We did some puzzles based on the Knights and Knaves from Raymond Smullyan's What is the Name of this Book?: [PDF]
The last puzzle was to make up your own puzzle about the Boolies.
2 March 2018: Water Rainbows
We can make colored water with different densities by mixing in different amounts of sugar. Then, we can make a separated rainbow of different colored water in a straw!
23 February 2018: Tree Adding
| | |
| --- | --- |
| | |